Fingerprint jewelry FAQ's
How does it work? 
Once your order has been placed, we'll ship out your fingerprint kit which will include material for at least two different moulds (one as a backup), step-by-step instructions and a return shipping label. There is no time limit to complete the kit. It is up to you to be creative on your own time. Once we receive it back at our studio, we will then get to work to create your one of a kind fingerprint jewelry piece for you.  
How long does it take?
From the moment we receive the fingerprint mould at your studio, it will take 2-4 weeks to make your jewelry piece and ship it back to you.
What age can you take a fingerprint?
Babies fingerprints are not fully defined until they are about 1.5 years old so it is best to wait until then. However, it is completely up to you on whether you are looking for a memory of the tiny newborn fingerprint or an actual defined print.  
I have had someone pass away very recently, can I still get an impression made?  
Yes. Time is of course of the essence in these situations so I would recommend ordering as soon as possible and emailing contact@siiriandstone.com with the subject line as URGENT. Therefore, we know to contact you as soon as possible so we can get the impression kit sent out to you right away. Shipping upgrades are available at checkout. If the impression kit will not make it to you in time, we will give you a full refund.  
Can I get my fingerprint jewelry stamped with an initial?
You have the option to get an initial stamped on the inside of your fingerprint ring band or on the back side of your fingerprint pendant.  If you'd like to get an initial stamped on your jewelry, please include a note when you ship your mould back to us. 
Can I purchase this if I am an international customer?
At this moment, our Fingerprint jewelry is available for purchase within Canada only. If you are an international costumer interested in this collection, please get in touch via e-mail to see if we can work out a special order for you.
Can I return my fingerprint jewelry piece after it has been made?
Please note that there are no refunds on these items as they are very personal jewelry pieces, made especially for YOU!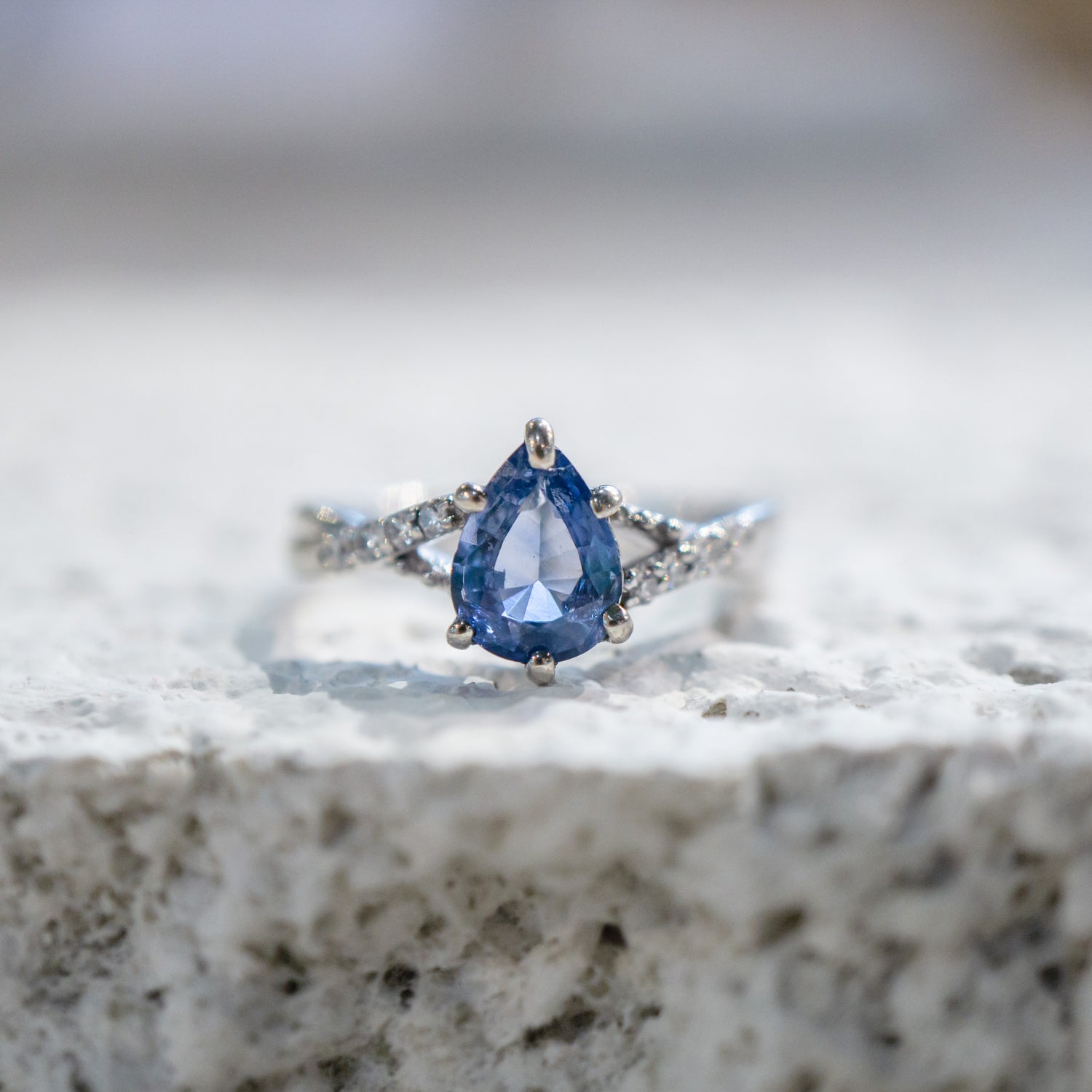 Sapphire and diamond engagement ring
Featuring a stunning 0.9carat natural blue sapphire and 4 accent diamonds on each side, this engagement ring is both modern and unique. Set in 14k white gold, it is dainty yet durable and sure to catch some well deserved attention.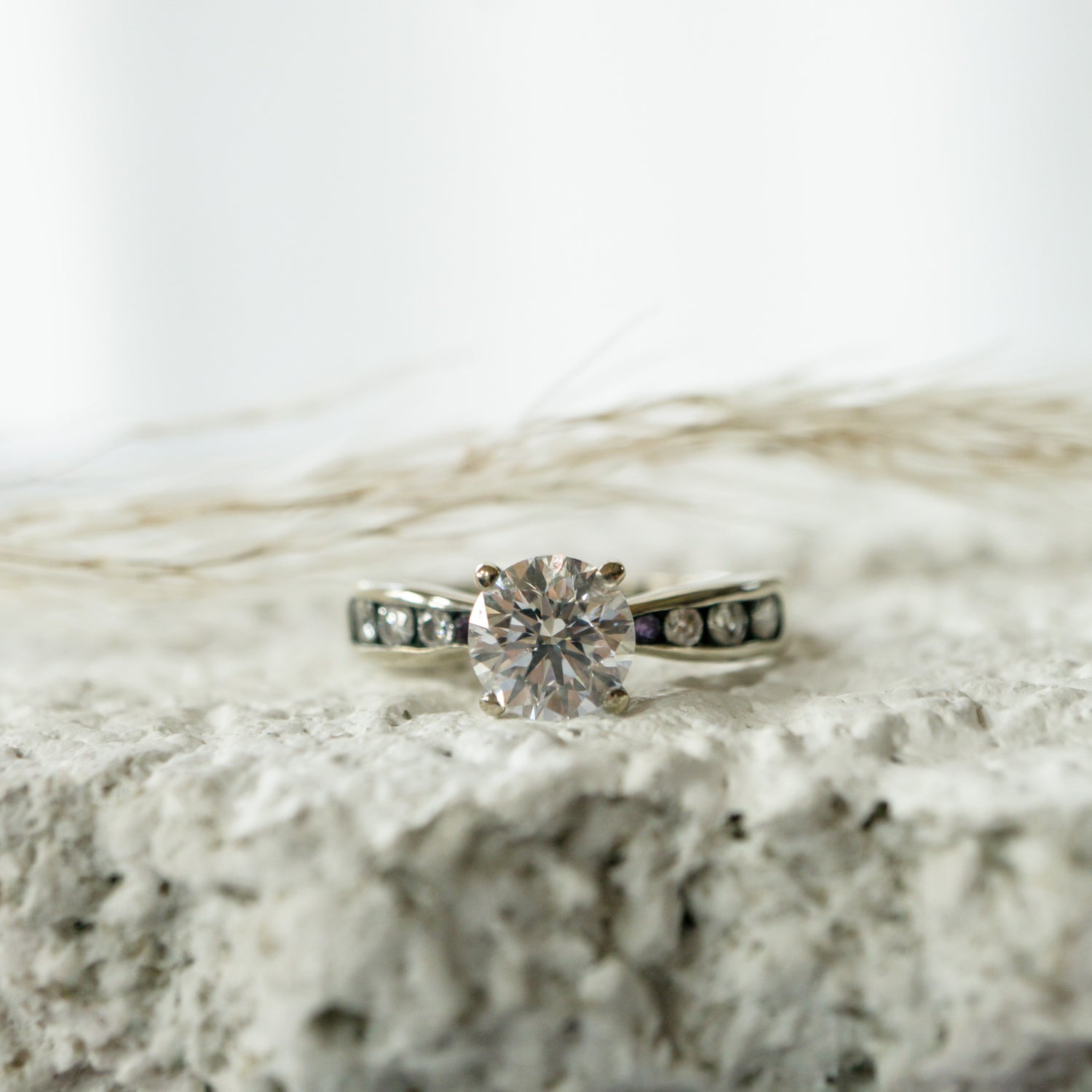 Diamond engagement ring
Breathtaking and mesmerizing are the words I would describe this 1.5carat lab grown diamond with. Extra personality was added with 6 family heirloom diamonds that we took from the groom's parents wedding bands. Made from 14k white gold, this engagement ring turned out truly one of a kind and extra meaningful, and frankly, impossible to say no to.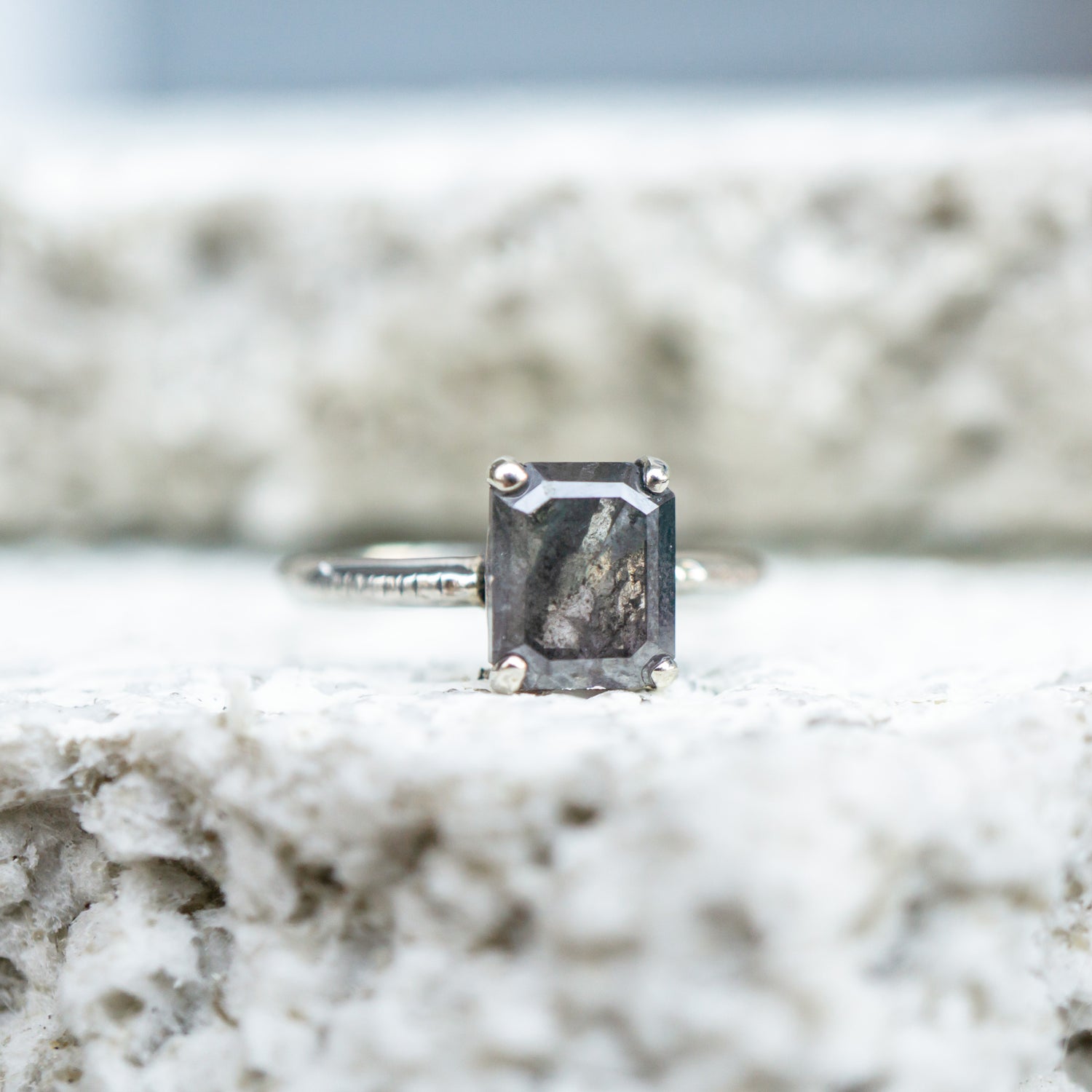 Salt and pepper diamond engagement ring
This 1.7c gorgeous salt and pepper diamond is giving out all the vibes. Set in 14k white fold and paired with a roughly textured band, this ring was made for a modern and stylish bride who loves to stand apart from the "ordinary".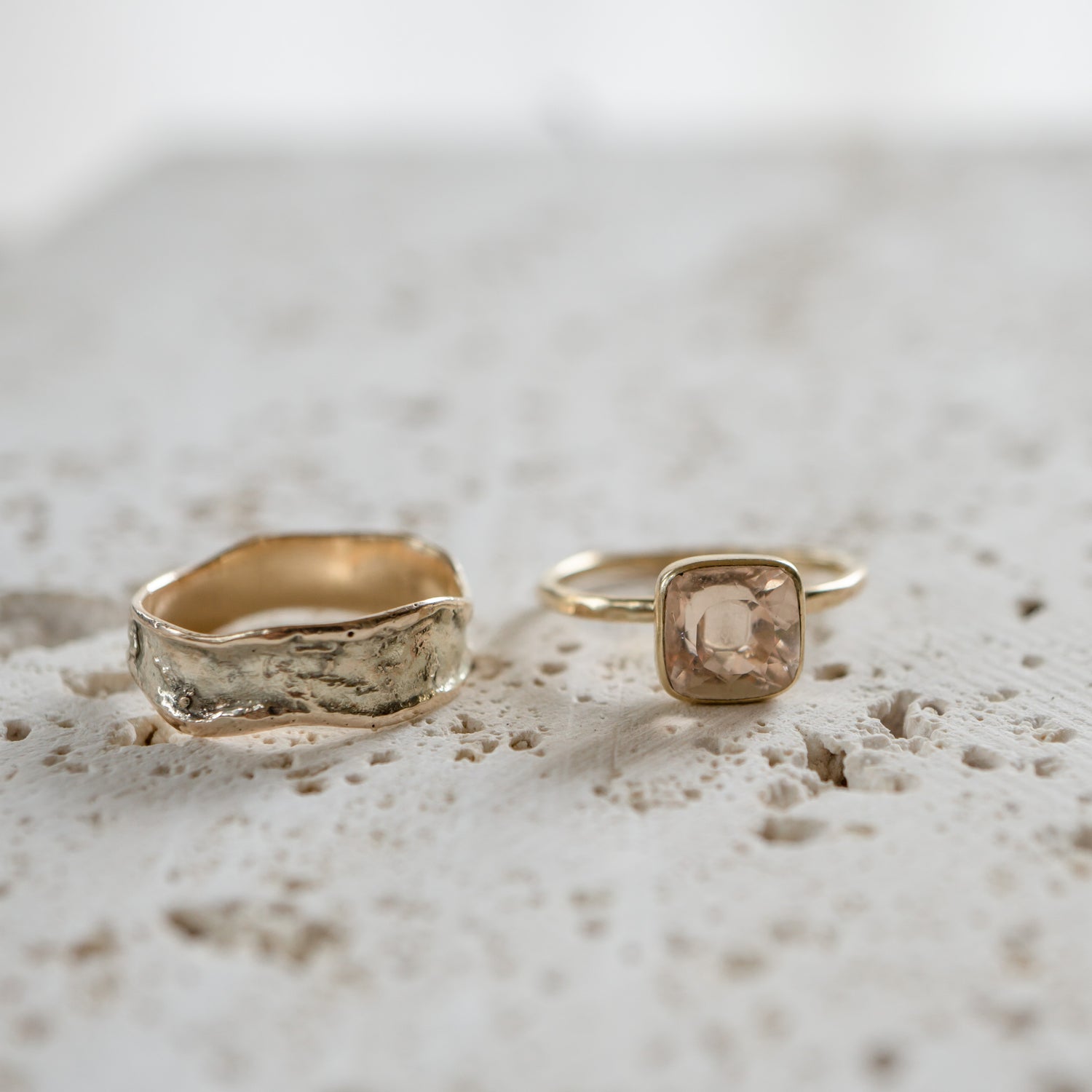 Morganite engagement ring + Ebb and Flow wedding band
We took this beautiful peachy 1.7c morganite stone from my customer's old ring and re-designed it into a minimalistic yet absolutely stunning engagement ring. Set in 10k yellow gold and paired with an Ebb and Flow ring as her wedding band, this set is dreamy, divine and so unique.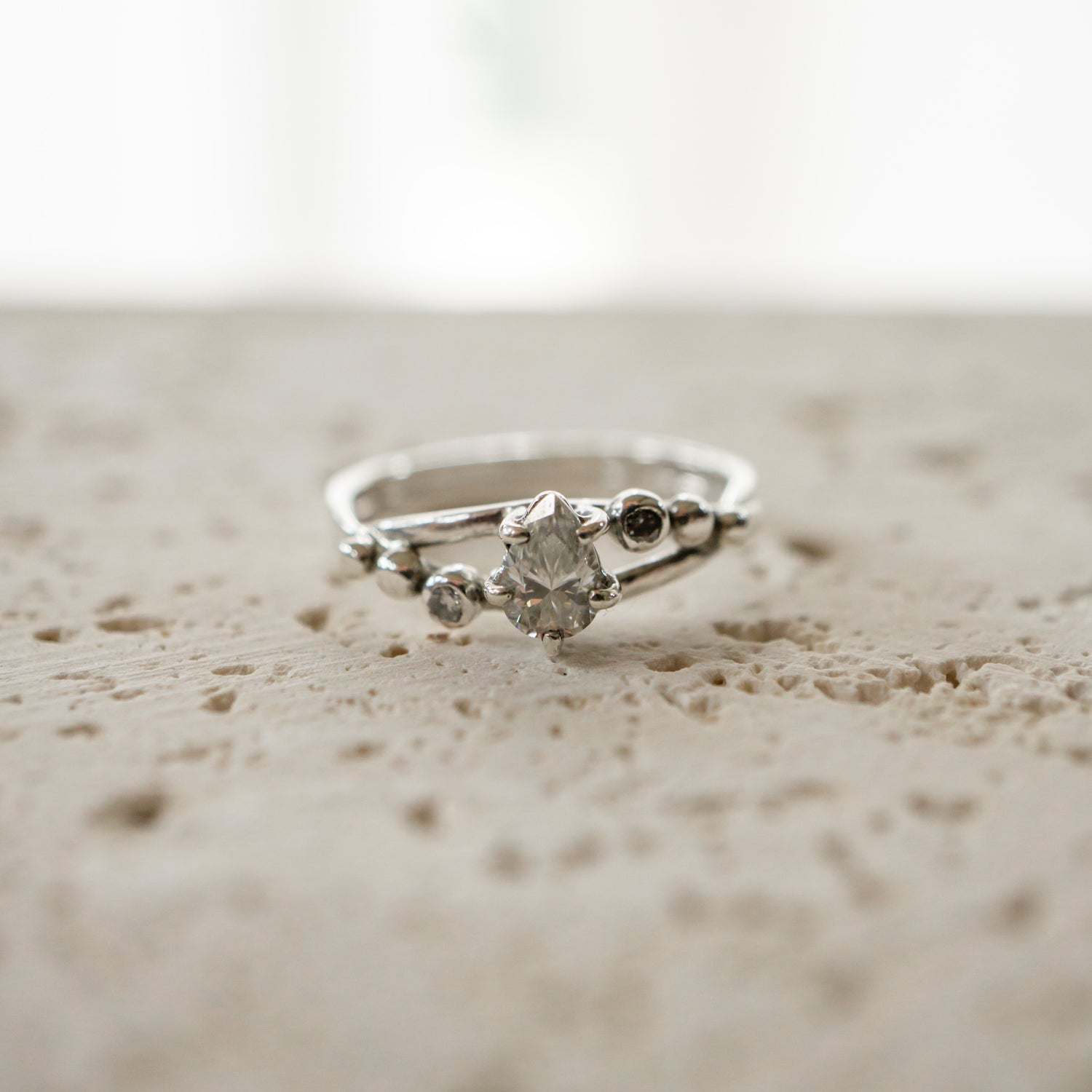 Moissanite wedding ring
Moissanite stones are a good alternative for diamonds and silver is a good alternative for white gold. Budget friendly, yet still stunning and unique, this wedding is sure to make heads turn.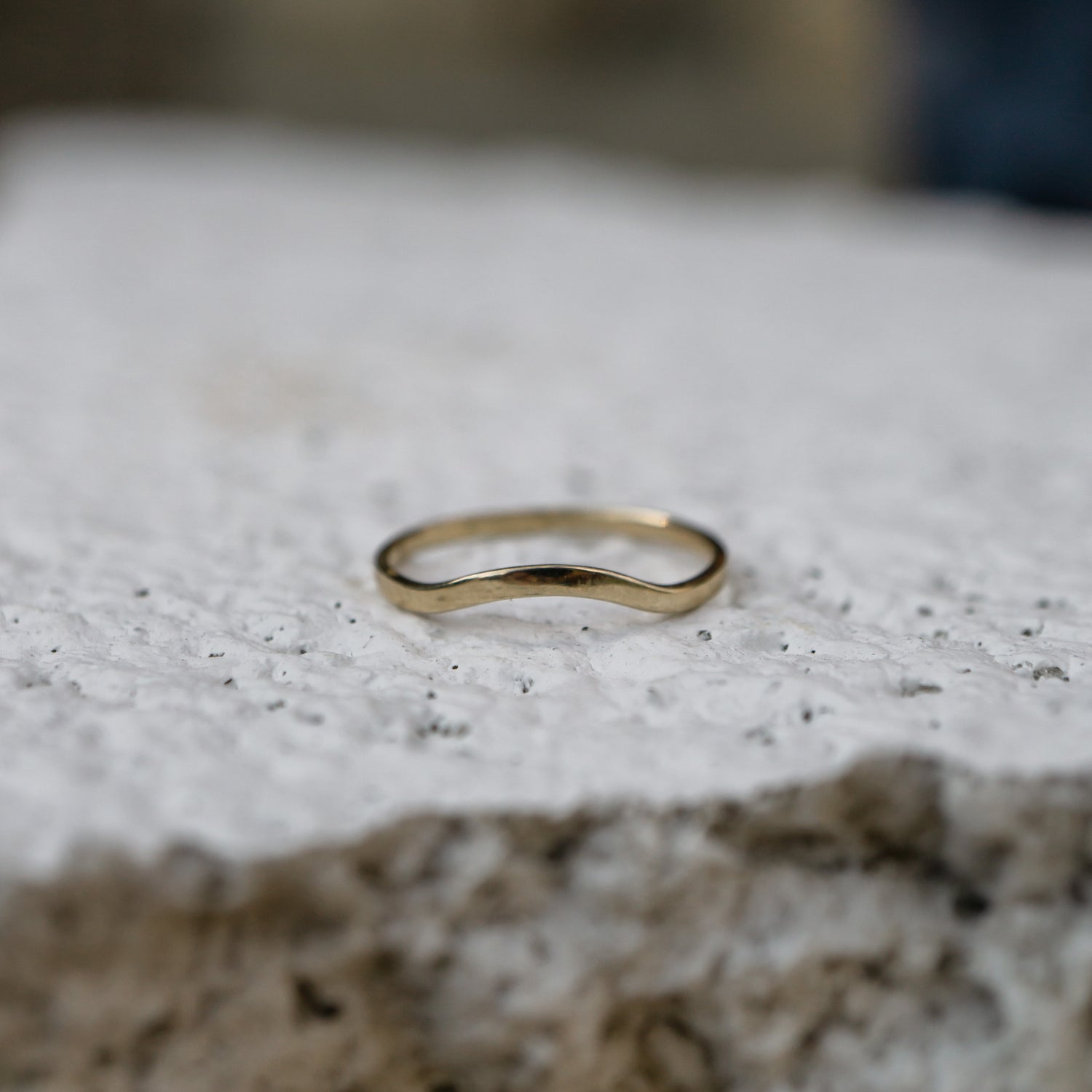 Curved wedding band
Minimalistic and dainty, this 10k gold wedding band was made to fit perfectly over my customer's engagement ring, creating a complete and put-together look.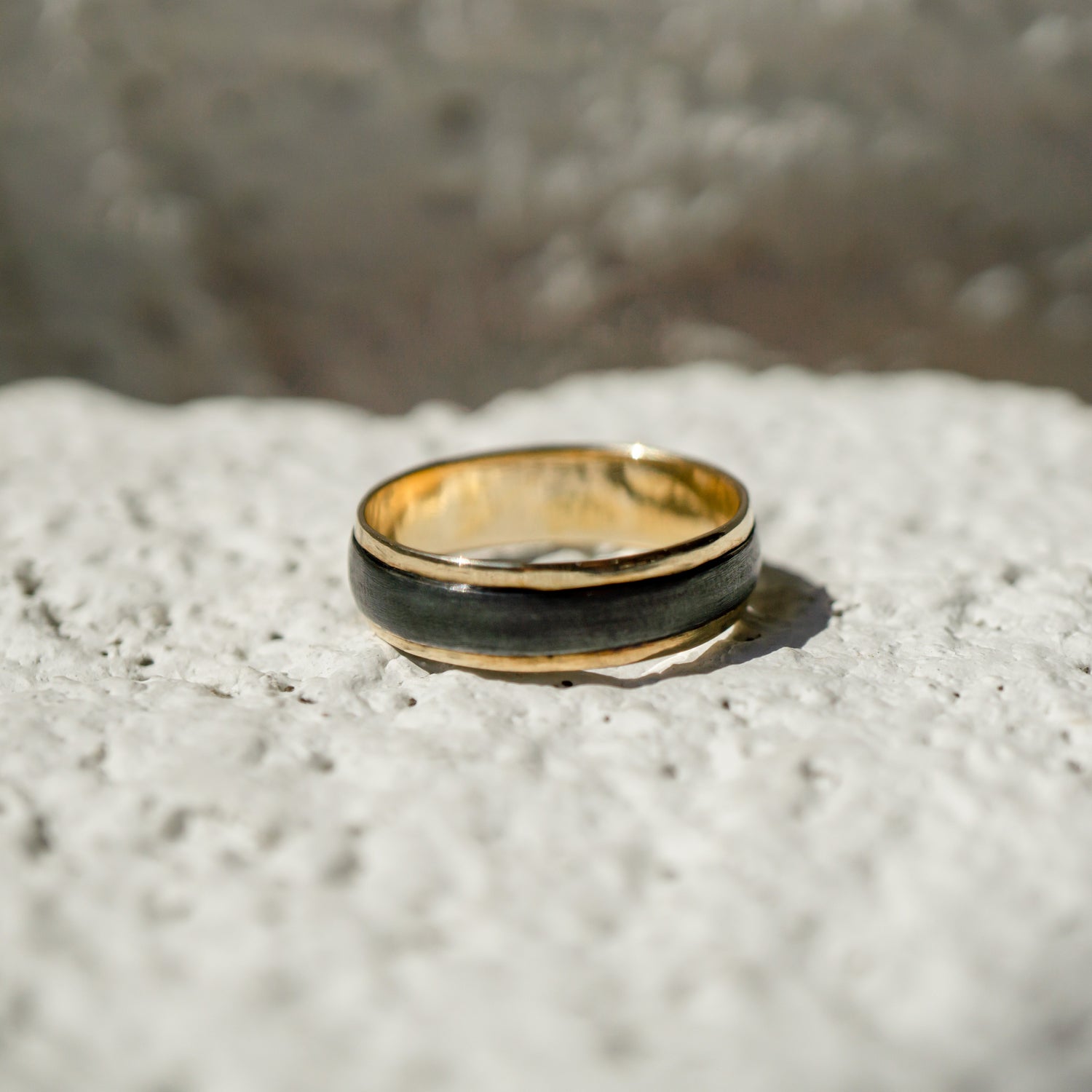 Men's wedding band
Combining 10k yellow gold and oxidized (blackened silver), this wedding band is both modern and masculine.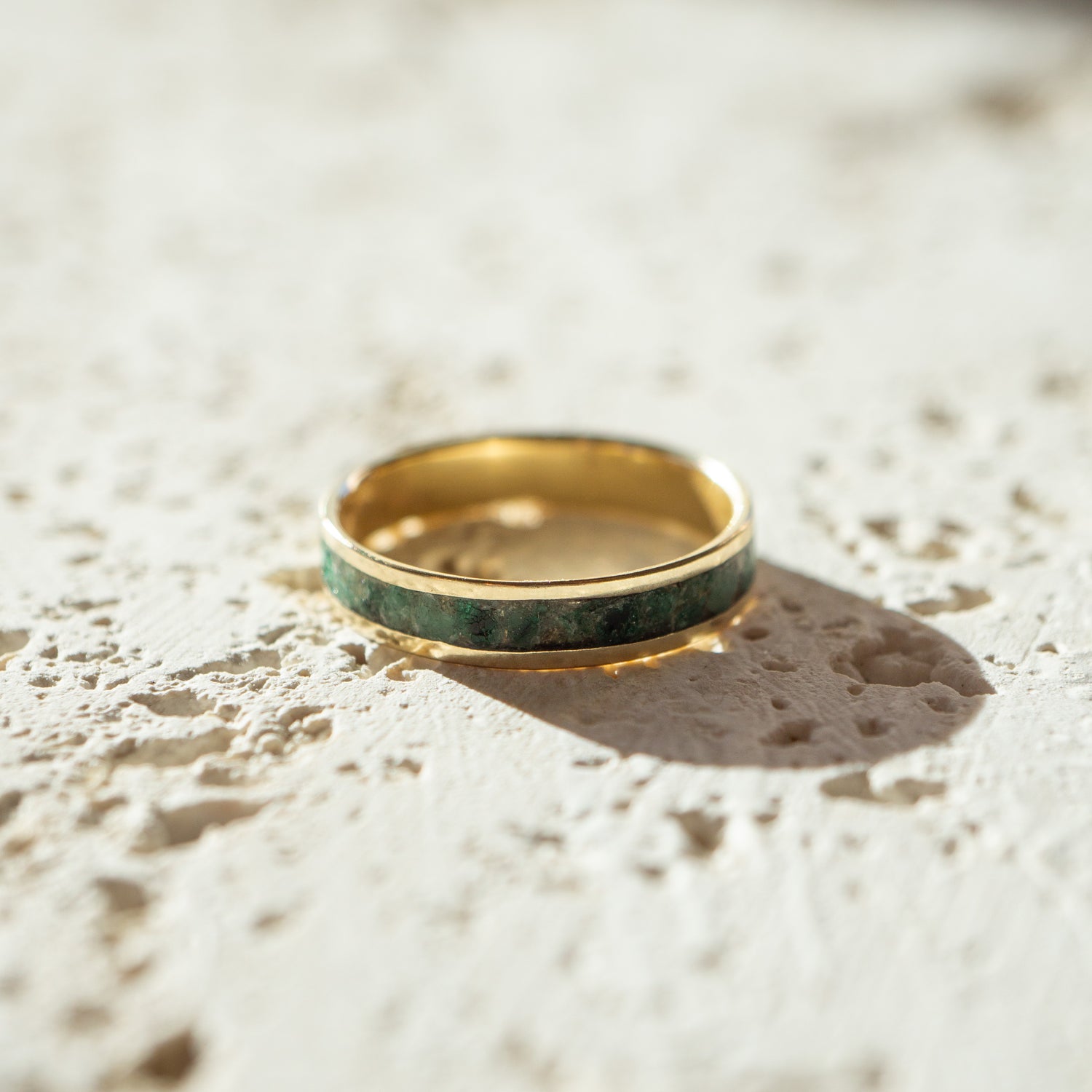 Emerald inlay mens wedding band
Pairing the warm tone of 10k yellow gold and bright green emerald gave absolutely amazing results. Crushed emerald stones were placed on the ring plank, then secured with resin and polished to a smooth and shiny finish, making this inlay ring one for the books.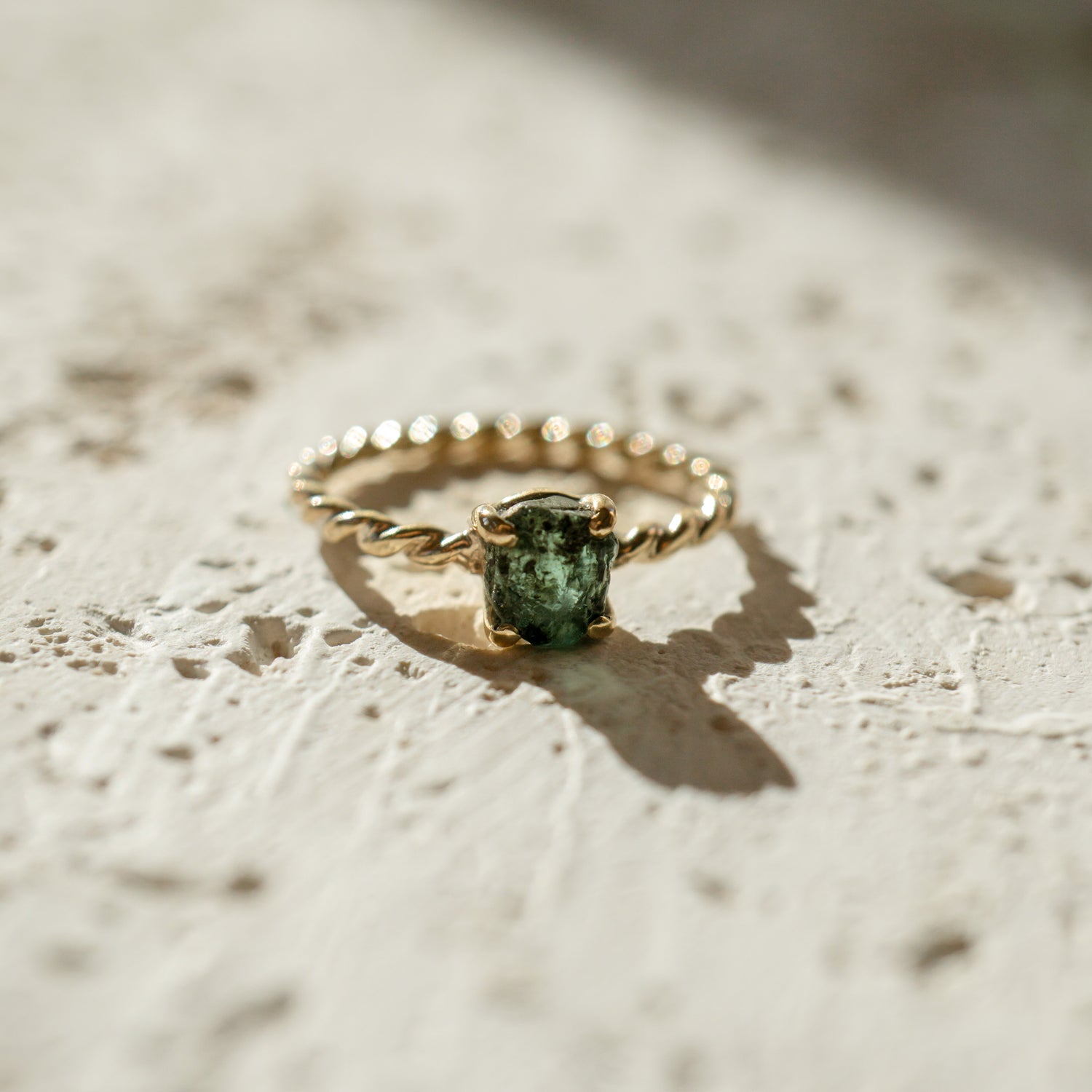 Raw emerald engagement ring
Nothing says one-of-a-kind more than a raw, uncut and unpolished stone left in its most organic form. This 10k yellow gold and raw emerald engagement ring was made for a bride that loves to stand apart from the crowd while celebrating imperfections and originality.